Solar Electricity (Hybrid)
When choosing a solar power system, most households and businesses choose either a grid-connected or an off-grid system.
But there's a third option. A hybrid solar system combines the best of both worlds: the convenience of a grid connected system — including the ability to earn Feed-In Tariff credits — with the extra peace of mind of a battery backup. This means that even during a power blackout, you still have electricity.
****Contact Us in Store Today to Learn More About These Amazing Systems!!****
Combining energy storage with a grid connection to your property, hybrid systems can provide the flexibility of being able to store the energy you generate during the day instead of feeding it back into the grid - typically at a low feed-in tariff. This energy can then be used in the evening instead of buying power back at a higher price.
These hybrid systems are quite sophisticated. They are fully programmable and our in-house designers can custom engineer a system which will provide a smart combination of all the energy sources available to you, giving you a strategic advantage in the reliability, cost and environmental impact of electricity usage.
Take control of your power
We've had many enquiries about solar hybrid systems since our Australian Selectronic MyGrid Energy Centre install appeared in The Age. If you missed it, here's the online version:
********Our solar hybrid install in The Age********
Further Benefits of Hybrid Systems
Providing Uninterruptable Power.
Buying a hybrid system from Going Solar will mean that when the grid fails, your system will keep going. Our hybrid systems are able to disconnect from the network in the event of a grid interruption (when a standard solar system would shut down). You will be able to continue to run certain appliances from your batteries (and solar during sunlight hours).
Allowing you to outsmart the Utilities.
A hybrid system can 'load shift' as shown in the figure below. This means that the energy that you generate during the day is not wastefully fed back into the grid with minimal financial return to you. The energy is stored and can be used in the evening or whenever you like. 
Hybrid Systems are fully programmable
An advantage of hybrid systems is that they are able to control and balance the available sources of energy:
If the power generated by a solar array is insufficient to supply daytime loads as well as charge your batteries, the system can recharge your batteries from the grid when a lower off-peak electricity rate is available.
When your electricity usage goes above a certain level, electricity companies may charge you at a higher rate for this increased level of demand. Hybrid systems can provide 'peak lopping' where some stored power can be drawn from the batteries to help balance the power usage.
 'Grid support' can also be provided by your hybrid system if your grid connection does not have the capacity to supply a load. The hybrid system could supply the extra power. And this may allow you to avoid a costly mains upgrade to your property.
The most common questions are about costs! Energy efficiency is always the first step to ensure your solar hybrid fits your electricity consumption profile and you don't pay for capacity that you don't need. Here are a few options to get you started with about 10kWh useable storage), however there's always customisations available to suit your individual needs and goals. Going Solar can work with you and your budget to achieve grid independence. 
Premium Australian Selectronic MyGrid Energy Centre starting at $22,000
HY-TECH hybrid solution starting at $17,000
Can I upgrade my existing grid connect solar system to hybrid? Starting at $12,000 - 14,000 depending on existing inverter
Remember it's not just about the economics. Hybrid systems empower you with energy security, self-sufficiency, lock in your future cost of electricity, control when you use your solar power and provide an uninterrupted power supply when others have lost grid power. And how do you put a value on that?
The two hybdrid PV package options recommended by Going Solar are the Hi-Tech Hybrid system and Selectronic MyGrid.
Hi Tech
The Hi Tech hybrid package uses Victron components. Victron are a well-established company from the Netherlands that have been providing innovative solutions in the field of PV for over 40 years. Their wide variety of components and flexible design options give our designers the freedom to take advantage of a variety of energy sources available to you, guaranteeing that the system is built to your financial, environmental and reliability needs.
The diagram above shows one arrangement of how Victron components are connected into your home in the form of a hybrid system.
** PRE-ORDER your HY-TECH energy storage system NOW! **
Going Solar is excited to announce one of the most affordable and convenient hybrid energy storage kits on the domestic market. Check out the new HY-TECH !
Selectronic My Grid
Selectronic are a market leader in Australia for Hybrid PV systems. Boasting excellent monitoring and functionality, these systems can deal with a huge variety of situations including grid interrupions and balancing renewables with grid power providing almost seamless transitions between your batteries, solar and the grid connected supply to your premises. Optimising cost, environmental impact and reliability, the My Grid System can be purchased as a new system package or the Selectronic SP PRO can be retrofitted to most existing grid-tie PV systems making it into a hybrid solar system.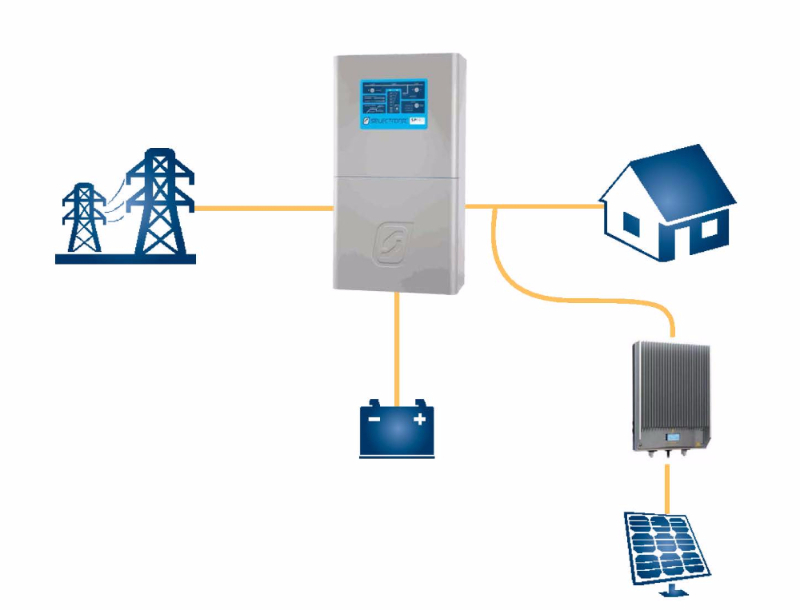 The diagram above shows how Selectronic components can be incorporated in your home in the form of a hybrid system.
This Selectronic graphic shows the energy flows in a hybrid system
Why choose Going Solar for a hybrid system?
Since 1978, Going Solar has been at the forefront of the most innovative developments in solar technology. Hybrid solar systems are another example of this.
Just like all our solar systems, when you engage Going Solar to design and install a hybrid solar system, you have the advantage of our in-house engineers, accredited installers, and top quality products including generous warranties.
Contact Going Solar and talk to an expert to find out if a hybrid solar power system is right for you.
Please note: All prices are subject to change without notice. Travel costs apply for areas outside Melbourne metro.
For a quote on your new hybrid system call Going Solar today on (03) 9348 1000.
The Going Solar Profile can be found at 
going_solar_commercial_profile_july_2019.pdf
Additional Solar Victoria Rebate Information
See if you are eligible for a Solar Victoria rebate of $2,225 and a further $2,225 Solar Victoria interest free loan.   
victorian_solar_rebate_for_owner-occupiers.pdf
Alternatively for certain Victorian postcodes there is a battery system rebate (if you have an existing PV system of 5kW or more).  
victorian_battery_rebate_for_owner-occupiers.pdf
If you are a renter and interested in a PV system and the landlord agrees to fund the balance of the system, then a $2,225 rebate may be available  
victorian_solar_rebate_for_renters.pdf
Make an enquiry
Brands we use and recommend for Solar Electricity (Hybrid)